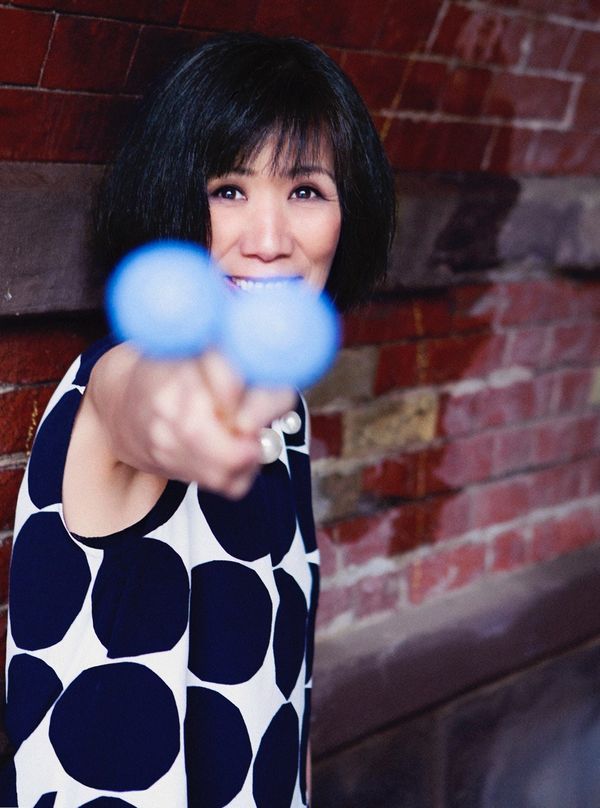 Mika Stoltzman
Mika Stoltzman has been described by The Los Angeles Times as a "high-wire marimbist... an amazing, energetic performer ready for major exposure," and a "Japanese Marimba Maestro," by Time Out New York. All About Jazz raves, "Mika Stoltzman is beyond category, to use Duke Ellington's signature compliment."  
"Mika Stoltzman plays her transcription of Bach's Chaconne with greater rhythmic rigour, yet her interpretation feels similarly contemplative, and her delicate touch brings an unexpected and touching fragility to this monumental work." -by Gramophone 
"The most spectacular aspect is perhaps Mika Stoltzman's imagination in realizing Bach's polyphonic thinking in shimmering textures in the transcription of the great Chaconne, from the Partita No.2 for solo violin, BWV 1004. Absolutely superb, an unexpected masterpiece. by Allmusic 
Mika has toured to 19 countries and 65 cities around the world. She has performed ten times at Carnegie Hall (Zankel and Weill Hall), as well as at PASIC 2005 and 2007, the Blue Note in New York, the Tokyo and Cairo Jazz Festivals, and the Rockport Jazz Festival. She regularly performs around the world in a duo with her husband, clarinetist Richard Stoltzman, at major venues in New York, Boston, Austin, Buenos Aires, Mexico, Hong Kong, Japan, Germany and many more. 
Mika has performed as soloist with the Kyushu Symphony Orchestra, Kumamoto Symphony Orchestra, Kansai Philharmonic Orchestra, Kracow Philharmonic, and Szombathey Symphony Orchestra. In 2013, she gave the world premiere of Chick Corea's Piano Concerto No. 1 on marimba with the Xalapa Symphony Orchestra in Mexico, and performed the work again with Orchestra Machiavelli in Italy in 2018.  
Mika released her first album Mitsue in 1998, followed by Marimba Phase in 2003. In 2010, she released a live DVD, Marimba Madness, on Big Round Records, and new CD, Mikarimba, on Video Art Music (Japan). In 2013, she released If You Believe with Steve Gadd on TeeGa Music (Japan). In 2017, Mika and Richard Stoltzman recorded a duo album titled Duo Cantando with producer Stephen Epstein, guest artist Chick Corea, and the Boston Modern Orchestra Project (BMOP), released on the DENON label (Nippon Colombia, Japan and Savoy record, US). In addition, Mika's arrangement and performance of Tokyo/Vermont Counterpoint appears on Steve Reich's album Triple Quartet (Nonesuch). She has also appeared on Richard Stoltzman's album Goldberg Variations (BMG Japan) and Jo Hisaishi's Asian X.T.C. (Universal Japan). Her next album, Palimpsest, will be released worldwide on AVIE Records in June 2019.
In 2022, CD Spirit of Chick Corea released on the Disc Union,Japan and Richard Stoltzman's CD Last solo Album on the Nippon Colombia,Japan.  
Mika Stoltzman is from Amakusa, a small island in the Kumamoto prefecture in southern Japan. Her grandparents played traditional Japanese instruments, while her aunt taught piano and her father was a Kendo master. She began studying piano at age three, and in junior high became fascinated by the drums. At eighteen, she found the marimba, a perfect combination of piano and percussion. She studied marimba at Toronto University with members of NEXUS, and later moved to New York in 2008. She now resides in Boston.
Mika's Story
Mika is a marimbist from Amakusa, a small island located in Kumamoto prefecture, the southern part of Japan.
In the environment where her grandparents played the japanese traditional instruments called Biwa and Shamisen, her aunt taught piano, and her father was a Kendo Master, Mika began to learn piano at the age of 3 and joined school brass bands in elementary and junior high school. She then became fascinated by drum and yet couldn't find a teacher there. CDs and videos were the only teacher for her to master the drum.
At 18, Mika proceeded to the local music collage and found marimba. It seemed to her the perfect piece of combination of piano and drum, and therefore she didn't take long to fall in love with the instrument.
After graduation, Mika worked in local schools as a music teacher and opened her own small marimba school in Amakusa.  
At 28, Mika attended the concert of NEXUS, the world famous percussion group from Canada, in Tokyo. She wrote them a letter to ask for lessons afterward and the request was accepted. In 1994, she took her first lesson with them and the experience led her to be a performer. 
Mika then went Toronto university and completed the 1 year program for professional performers. 
After studying abroad, Mika returned to Japan and resumed her career as a performer. 
Here is her milestones as a professional Marimbist. (more on the Web. BIO)
2000: Tokyo debut
2001: NY debut
2005: Produced the first music festival in Amakusa
          Here, Mika invited her longtime hero Richard for the festival and performed together
2008: moved to NY
In the US, Mika has released two CDs, both of which was produced by Steve Gadd, the drummer, and established her career as a Jazz marimbist. She also has performed at Blue Note Tokyo and many other jazz festivals. 
In 2012, Mika married with Richard Stoltzman and began the DUO performances. 
The Duo has been performed in Mexico, Argentina, Hong Kong, Germany, Japan, and the US. 
Chick Cora also wrote new piece "Marika Groove" for Mika. 
Mika's Blog "Chick and Me"(Backrround story about Chick and Gayle Corea)
http://mikarimba-stoltzman.blogspot.com/2017/05/chick-and-me-english-translated.html?spref=fb 
Main Performance & Activities
| | |
| --- | --- |
| 1995  |  Invited Nexus and performed with Nexus at Amakusa, Kumamoto |
1996 
 Hosting and holding a joint concert with the international mallet player Bob Becker
 (Amakusa city, Kumamoto city in Japan)
 
 Invited for a recital in Budapest, Hungary & Atlanta, USA (Emory University)
 
 Performed 'Xylophone Concerto' by Toshiro Mayuzumi with the Szombathely Symphony Orchestra
 at the Bartok Music Festival (Szombathely, Hungary)
 
 Evolved to be interested in ethnic music after collaborating with Kakraba Lobi (Gili masters of Ghana, Africa)
1997 
 Held a joint concert with Canadian Contemporary Gamelan ensemble "Ever Green"
 (Amakusa city, Kumamoto City & Kyoto in Japan)
| | |
| --- | --- |
| 1998  |  Released first solo CD album 'MITSUE' |
| | |
| --- | --- |
|       |  Win the Kumamoto Prefecture Culture Recruitment Association Best New Artist Award |
| | |
| --- | --- |
| 1999  |  Studied 'Advanced Certificate in Performance' at the University of Toronto, Canada |
|   |  Invited and performed Bartok "Sonata for 2 Pianos & Percussion" at Emory University (Atlanta, USA) |
| | |
| --- | --- |
| 2000  |  Recital at the University of Toronto, (Toronto, Canada) |
|   |  Tokyo debut recital (Oji Hall, Tokyo, Japan) |
|   |  Fukuoka debut recital (FFG Hall, Fukuoka, Japan) |
2001 
 US debut recital (Carnegie Weil Hall, New York, Japan)
 
 Arranged and performed for Steve Reich's CD 'Triple Quartet' (nonesuch)
 Tokyo Vermont Counterpoint' was recorded and released worldwide
| | |
| --- | --- |
| 2002  |  Joint recital with Nexus (Amakusa city, Fukuoka city in Japan) |
| | |
| --- | --- |
| 2003  |  Joint recital with New York Philharmonic Principal Horn Player Thomas Stacey |
|   |   (Tokyo Toppan Hall, Fukuoka Symphony Hall & Kumamoto Prefectural Theater) |
|   |  World premiere performance of John Wire's 'Marimba Concerto Moonlight' with the Kyushu Symphony Orchestra |
2004 
 New Year Recital (FFG Hall, Kumamoto Industry, and Culture Center)  
 Guest: Kei Ichiyanagi (composition & piano), John Wire (percussion)
 
 New York Recital (Carnegie Weil Hall, NY)
 
 Performed at the New York Contemporary Music Festival (La Mama Theater)
 
 Released CD album 'Marimba Phase' (Monroe Street)
 
 World Premiere of Bill Douglas's 'Marimba Concerto' with the Kumamoto Symphony Orchestra
2005 
 New Year recital (FFG Hall, Kumamoto Industry, and Culture Center)
 Guest: Takahashi Takeyama (Tsugaru Shamisen), John Wire, Lady Lardand other
 
 Produced the 1st Amakusa International Music Festival 'Island Magic' * First collaboration with Richard Stoltzman
 
 Invited performance at PASIC 2005 (National International Percussion Convention) *Met Steve Gadd
2006 
 New Year recital (FFG Hall, Kumamoto Industry, and Culture Center)
 Guest: Kazumi Watanabe (guitar), Kimiko Tanikawa (piano) and other
 
 Tokyo Recital (Hamarikyu Asahi Hall) Guest: Richard Stoltzman, VEGA String Quartet, Peter Stoltzman
| | |
| --- | --- |
| 2007  |  Held the 2nd Amakusa International Music Festival 'Island Magic' * First collaboration with Eddie Gomez |
|   |  New York Recital (Carnegie Zankel Hall, NY) |
|   |  Invited to perform at PASIC 2007 |
|   |  Front act performance at Kumamoto prefecture tree-planting ceremony ceremonial |
2008 
 New Year Recital (Kumamoto Prefectural Theater Concert Hall, Fukuoka Symphony Hall)
 Guest: Kazuki Yamada (conductor) & Fukuoka String Orchestra, Eddie Gomez and others
 
 The 3rd Amakusa International Music Festival island magic  *Co-star with Steve Gadd
 
 Move to New York, NY, USA
| | |
| --- | --- |
| 2009  |  Japan Tour with Steve Gadd, Eddie Gomez, and Peter John Stoltzman (Kumamoto, Tamana, Nagoya, Kurume etc.) |
| | |
| --- | --- |
| 2010  |  Release live DVD 'Marimba Madness' from Nexus |
|   |  Japan Tour (Tokyo Sogetsu Hall, Kumamoto City, Hakata, Nagoya, etc.) |
| | |
| --- | --- |
| 2011  |  Mikarimba Concert (Carnegie Zankel Hall) |
|   |  CD album 'MIKARIMBA' released from Video Arts |
|   |  Mika & Richard Duo Concert (Poisson Rouge, NY) |
| | |
| --- | --- |
| 2012  |  Mikarimba Japan tour (Blue Note Tokyo, Blue Note Nagoya, Hiroshima, Kumamoto, Hakata, etc.) |
|   |  Carnegie Weil Hall Performance (Chick Corea "Marika Groove" World Premiere) |
|   |  Featured at the Rockport Music Festival |
| | |
| --- | --- |
| 2013  |  Carnegie Weil Hall Performance (Chick & Gail Corea, Harlem Quartet, etc.) |
|   |  Featured at the Cairo Jazz Festival (Egypt) |
|   |  Released CD album 'If you believe' |
|   |  Featured at the Rockport Music Festival |
|   |  World premiere of Chick Corea's "Marimba Concerto" with the Xalapa Symphony Orchestra |
|   |  Mikarimba Japan tour (Kyoto Shimogamo Shrine, Hiroshima, Kumamoto, Hakata, Nagoya) |
|   |  Invited to perform at Hong Kong Science and Technology University |
| | |
| --- | --- |
| 2014  |  Produced Kumamoto Red Music Festival |
|   |  Austin Chamber Music Festival, Rockport Music Festival (Duo performance with Richard Stoltzman) |
|   |  Mikarimba Japan Tour (Blue Note Tokyo, Blue Note Nagoya, Akita, Morioka, Nagoya, Iizuka, Arao city, Kagoshima) |
|   |  Japan Tour with Richard Stoltzman Duo (Fukushima Soma city, Ome city, etc.) |
|   |  Featured at Chiapas Marimba Festival (Mexico) |
| | |
| --- | --- |
| 2015  |  Duo performance at Carnegie Weil Hall, NY |
|   |  'Sweet Concert 1' in collaboration with HIDEMI SUGINO (Tokyo Musicasa) |
|   |  Japan Tour (Fukuoka Bank Head Office Hall, etc.) |
|   |  Mexico, Buenos Aires, Hong Kong, Beijing |
|   |  Mikarimba was featured at the  Rockport Jazz Festival |
2016 
 Kumamoto Earthquake Benefit Concert at United Nations Ambassador Motoshi Yoshikawa's residence & NY Japan Club
 
 'Sweet Concert 2' with HIDEMI SUGINO (Tokyo Musicasa)
 DUO album production with Richard Stoltzman (produced by Steven Epstein)
 
 Japan Tour (Tokyo Iino Hall, Nagoya Munetsugu Hall, Kumamoto Dolce)
 Kumamoto Earthquake Benefit Concert 
 (Kumamoto "Tatsuta no Mori Music Concert", Okazaki Jonmyoji, Kumamoto City Club Kohon)